User guidelines
Main page » User instruction » Website management » Checking limits »
Checking limits
When signing-up to the "Inkapi" project all companies are signed to the "Free registration" service package:
System management features divide into paid and free features.
Payment Options:
Exceeding disk storage over 1 Mb,
Placing more than 5 items in the Internet store
Carrying surveys and polls on the website
Auto filling the website
Individual design
Using over 3 code insertions
Message sending form builder
If the website uses one or several described features, the user will be notified not to use Premium options or with an offer to upgrade service plan.
During first 14 days, Premium options are free.
After the trial period is over, the following will happen to the website:
If the user does not use Premium options on the website – there will be no changes and the website will be available for free.
If there are Premium options on the website and user has paid for the service package, the website will work in accordance with chosen plan.
If there are Premium options on the website and user did not purchase any service package after 14 days, the website will be stored as backup and user may anytime launch his website after he purchases a service package.
If the website is running "Mini" or "Standard" service package, but uses the features of the more expensive packages, all files, exceeding the features of the current package, will be deleted and placed in a backup with an ability to restore the website from that backup after the user purchases more expensive service plan.
Does your website use the features of the more expensive package?
You may find out this information in the website management system: "Opportunities" - "Checking limits":


To purchase a service plan or to change your current package go to "Opportunities" - "Rate plans" and press "Purchase":


Then the system will redirect you to the page, where you can specify the payment period and choose the convenient payment option. If you make an immediate payment for 2-5 years, you will be offered a discount from 10% to 30% of the total cost.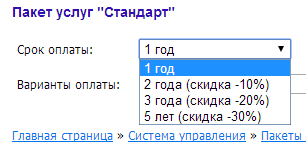 Main page » User instruction » Website management » Checking limits »