User guidelines
Main page » User instruction » Website management » Individual website password reminder for logging into the website management system »
Individual website password reminder for logging into the website management system
Option 1. Send password to the registered email address
Use the hyperlink "Admin" the individual website under the "Navigation" menu: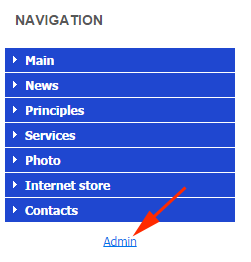 On the right side of the opened page input the email address that you used when registered your company in the "Inkapi". Press on the "Remind" button.

Email with the recovered password will be sent to your specified email address.
Option 2. Recover your password by contacting "Inkapi" support service
Support service will send you an email with password reminder if the registered email address is the same as the email address from which the password recovery request was sent.
Option 3. Course of action if the access to the registered email is not possible
If the company has lost access to the registered email address, it is possible to receive the recovered password after sending the scanned copy of the official password recovery request letter.
Letter requirements:
Letter must be issued on the company's letterhead.
Letter must contain seal and signature of the head of the company or other authorized representative
The requisites of the company that sends in the official request of the password recovery must be the same as data that was saved in the website (company name, contacts etc.).
Address for sending requests by letter is given on the page "Contacts"
Sample letter can be downloaded here.

Main page » User instruction » Website management » Individual website password reminder for logging into the website management system »