User guidelines
Main page » User instruction » Website management » Removal of a small website »
Removal of a small website
Option 1: Uninstall through content management system, business card
In the top menu bar control in the "Management" b> tap "Removing a small website".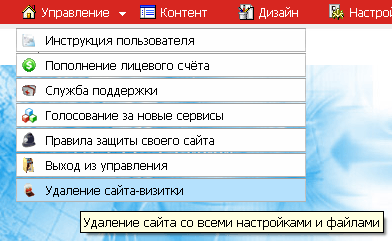 On the next page, confirm the removal of a small website of the firm.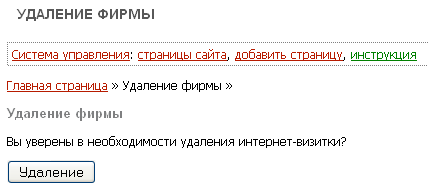 Option 2. Procedure if access to the mailbox specified in the registration is not possible
If the organization had lost access to the mailbox specified in the registration, deletion of a site probably technical support.
The site will be removed after receiving the technical support of an official letter, which outlines the company's desire to remove a site.
Requirements to the letter:
Issued on the letterhead of the organization.
Stamped and signed by the manager or other authorized person.
Details of the organization sending the letter on the restoration of access shall comply with the data presented on the site ( name, contact details, etc.)
Address for letters is given on page "Contacts"
A sample letter can be downloaded here.
To avoid hacking site user Inkapi reserves the right after receiving the letter skanerokopii contact the company requesting the removal of the site and request confirmation to delete the site.

Main page » User instruction » Website management » Removal of a small website »